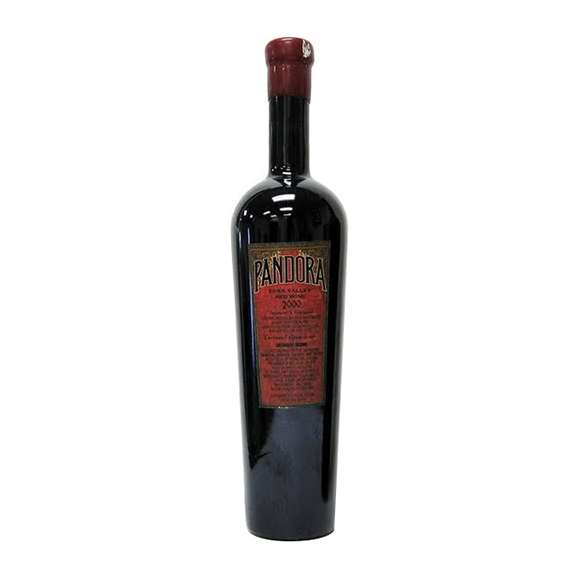 At the very highest point on our ranch there is a unique and steep hillside. Over the course of 7 years, we slowly scratched terraces into this slope: a mix of pure white chalk laced with veins of fractured flint and sandstone. In the early years visiting winemakers went nuts when we showed them the site. Most were outraged when I told them we were planting Syrah and Grenache- at that time it sounded to them like we were putting a doormat on top of a silk rug. Times are changing.
Working this hillside, we struggle right along side the vines. These 10 acres of Syrah and Grenache make up Seymour's Vineyard. While the Syrah goes into a wine called Seymour's, the Grenache is the fruit for our Pandora.
In the myth, Pandora is the first woman- the Greek 'Eve'. She is fashioned out of clay and as you know, handed a vessel that she is instructed not to open. Of course, curiosity forces her to take a look. In that moment, all the challenges of the world are released- much like the effect of the apple in Eden. What is all too often overlooked is that Pandora shuts the vessel in time to retain one attribute: Hope. Naturally as the first woman, she is the source of all hope for mankind.
Pandora is a very feminine wine that we hope has advanced the end of the idea that some grapes are nobler than others; that Grenache is too paltry to be planted on premier vineyard sites. I am happy to say, that over the 30 years we have worked with Grenache, a generation has emerged that really doesn't even know there were once, so called, noble varieties. In our opinion, there are only noble wines.
Aromatic and exotic with smoked herbs, juvenile fresh red fruits, fennel, and wet crushed stones; dense and long. Aged 34 months in larger French containers of various ages after being fermented open to by its native yeasts. Bottled unfined and unfiltered.